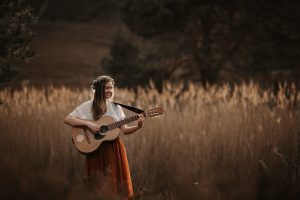 Jeska is a singer-songwriter from the Netherlands who writes and sings songs from and for the heart.
Her warm, angelic voice enters into your soul and takes you on a journey to hidden places and forgotten memories.
She plays guitar and with which she accompanies her soft yet powerful voice.
Jeska weaves songs from her experiences on earth in this lifetime as well as from mystical messages and memories of other lifetimes.
Her music is mostly enjoyed in an intimate setting for an attentive audience, bringing the listener into a relaxed state of mind and opening up the space of the heart.
Jeska released her debut album "All Is One" in June 2019 and is currently traveling in Europe to share her music, singing and women's circles whilst working on new songs.