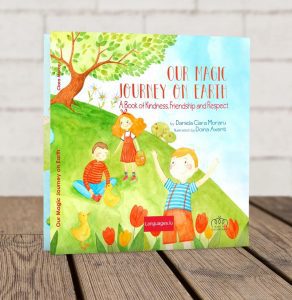 Public launching of the book "Our Magic Journey on Earth. A Book of Kindness, Friendship and Respect"
4 pm – introduction/ presentation by the deputy Paul Galles
4.15 pm public reading in English
4.30 pm public reading in Luxembourgish
4.45 pm Questions & Answers with the author, Clara Moraru
About the author & illustrator
Daniela Lacramioara (Clara) Moraru
Clara Moraru has been working with children since 2004, when she created the language school called Languages.lu in Luxembourg City. The initial idea was that her nephew, Alex, would learn languages whilst having fun and making new friends. Since then, more than 2500 children aged 6 to 18, representing 15 nationalities, have attended the individual or small group language programmes in French, English, German, Luxembourgish and Spanish at Languages.lu.
Clara studied at Lucian Blaga University of Sibiu (ULBS), Romania (B.A. in Philology and Journalism) and Master in Management, she continued her studies with an MBA specialized in Marketing and International Business at Sacred Heart University, John F. Welsh College of Business, which she completed in 2003. The same year, she has started a Ph.D. program in Management with Lucian Blaga University of Sibiu on the topic of management in education. She continued her lifelong learning at INSEAD, a university that focuses on teaching the importance of doing business for good. Clara completed four executive programmes in Global management, marketing and became in 2015 a certified international director.
Passionate about languages and education, she started from 2015 onwards to create and publish a series of learning materials for children and adults. "My first 100 words" learning cards in French, Luxembourgish and English are now successfully used in kindergartens, as well as at home by children and parents. Other resources include "365 days to learn Luxembourgish", "100 expressions in Luxembourgish" and "Sticky notes Luxembourgish".
Her first book of short stories for children "Our Magic Journey on Earth. A Book of Kindness, Friendship and Respect" is a reminder for children (and adults alike) that we are just a tiny part of our planet and should therefore treat it with utmost respect and care. We should grow up to seeing ourselves as part of the world and connected to its nature, inhabitants, their different cultures and history.
Doina Axenti
Doina Axenti graduated from Visual Arts (Graphic Design) and also holds a Master degree from "George Enescu" Arts National University from Iasi, Romania. Member of the Romanian Illustrators Club, Doina has a creative nature and is open to new artistic challenges. She loves animals, mountains and trees and life inspires and energizes her to create.
In her work Doina tries to highlight empathy and kindness, to translate into colors her values and hopes, to bring to light the beauty of this world. In her artistic career, she has always emphasized the reinterpretation of the emotion. Because she believes that true value of art and of illustrations comes from the emotional contribution and the authenticity of one's feelings and she becomes emotionally involved in the process of creation.
Doina's illustrations travelled in the form of paintings, prints, cards and stickers at the 2017 FIE Art Creation camp, 2017 "Atelier 35", 2019 Bookfest, 2019 Romanian Design Week, 2019 Belgrad Illustration Festival – Ilustrofest etc., eager to see as many places and discover new horizons. The Erasmus experiences that she had in France (Lorient, 2017; Rennes, 2019) motivated her and allowed her to develop a new vison of the book illustration, helping her to discover herself better and define her own unique style.