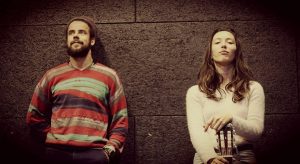 What better place than the Café Littéraire le Bovary for our first post-confinement show?
Gregório Entringer de Carvalho, composer, 35 years old, was born in Santa Leopoldina, Brazil. He moved to Luxembourg a couple of years ago. During his way, he has met so many roads he could have taken, but since 1999, his main activity is to compose. News stuff will be released soon (brazilian soul, funk, bossa, samba, baião, reggae, etc). He is currently building this duo with a young artist, Julia Agudo. In a acoustic way, with guitar and two voices. Julia is french with a brazilian soul. She is a singer and a musician and was recently convinced to assume her mission in music.
Julia Agudo and Gregório Entringer are having fun with the sonority they are getting together. Original songs, covers, cosmopolitan vibes of love and positivity.